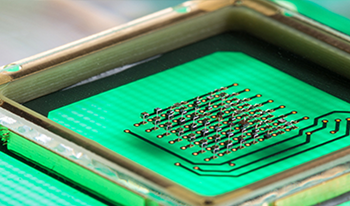 While miniaturization and ongoing integration drives classical packages to the limit, EpiGap's chip on board technology can give you a huge advantage.
By placing the LED and photodiode chip direct on the PCB connecting them with bond wires EpiGap can offer maximal flexibility in layout and design. Optical resin or glass cover guarantees proper protection of sensitive components.
In addition to optoelectronic components we can add all kind of electronic (electrical driver, evaluation circuits etc.).
Some application of EpiGap's CoB technology:
Multi wavelength array
Area illumination with high homogeneity
Digital display with integrated electronics
Optical sensors
Do you need a custom module for your application? Please contact us, we are looking forward to your inquiry.